Scientific Studies Supporting  Vision Training
Vision Training Soccer Programs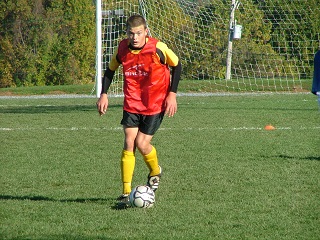 By Seeing The Soccer Field, soccer players identify and make the best tactical choices, improving their game in much less time than with ordinary training.
Players who attend our camps and learn the VISION TRAINING SYSTEM, become creative and self-confident when handling the ball.
The world's best players, such as Messi, Xavi, Inniesta, Kaka and Fabregas, use their VISION and their skills to consistently create opportunities out of nowhere! We have proven that even players with average dexterity skills, dramatically improve their effectiveness when they See The Field.
Directors Len Bilous and TJ Kostecky developed the VISION TRAINING SYSTEM in 1981.  Vision Training has made such a difference in the quality of our alumni, TJ and Len GUARANTEE your game will improve regardless of your age and ability.
Vision Training Soccer offer camps and 5 levels of coach certification.
If you can't make it to one of our Soccer Camps or Coaching Certification seminars, the Vision Training for Soccer DVD shows the simple yet effective how-tos of 
Seeing The Field
.
Scientific Studies Support the Need for Vision Training
The Eyes: Soccer: What makes a topnotch football player different from a mediocre performer? One key difference is in the way their eyes move, according to researchers at the University of Liverpool and the University of Manchester. High-quality players survey the field of play for clues about what their opponents will try to do in a manner which varies strikingly from the visual search patterns used by less-experienced performers.
Vision Training DVD Preview
CLICK HERE TO PREVIEW 7 MORE VISION TRAINING TOPICS!
The VISION TRAINING DVD teaches players how to SEE THE FIELD.  By SEEING THE FIELD, players develop EARLY RECOGNITION of tactical choices, make the best decisions and become more successful. Players who learn the VISION TRAINING SYSTEM become creative, self-confident and comfortable on the ball. The world's best players, such as Messi, Xavi, Inniesta, Kaka and Fabregas, use their exceptional Skills and superb VISION, to consistently create opportunities out of seemingly nothing!  Thanks to their VISION, they both excel and entertain worldwide. VISION TRAINING SOCCER offers you the System of training to quickly IMPROVE your VISION and your game!
Claudio Reyna, former captain of the US World Cup Team's in 2002 and 2006, was introduced to Vision Training at age 13 while playing for TJ Kostecky with the New Jersey ODP Program. See what he 

had to say

 about Vision Training.
Camp Sponsors
Vision Training Soccer Camps are sponsored by adidas. 

adidas equipment is available at Soccer Magic soccer specialty online & retail in Whitehall, PA. Whatever your soccer equipment needs, Soccer Magic is the place to go. Please visit them at www.SoccerMagicDiscounts.com 



Community Camps and Coaching Programs
Directors Len Bilous and TJ Kostecky can personally bring both their camp program and COACHING CERTIFICATION courses to your community! Please email or call us with your individual requests.
All VISION Training Soccer Camps are sponsored by adidas